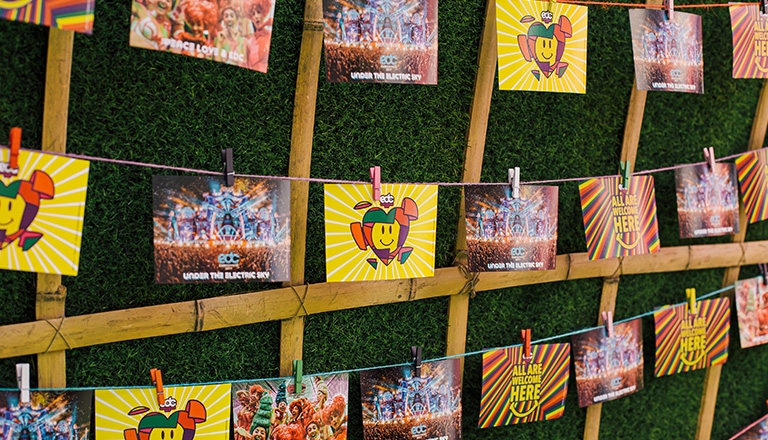 Hours & Info
Venue & Hours
Yang Cheng Lake Resort
Suzhou, China
For a map, check out Location.
Monday, October 2 & Tuesday, October 3, 2023
Gates open: 13:00
Show times: 14:00–23:00
Box Office
Information coming soon!
Weather
The festival will take place rain or shine. Please keep up-to-date on weather reports and plan your attire and preparations accordingly.
Zero Tolerance
We have a zero-tolerance policy for drug use and possession. Police officers will be working inside and outside of the event, and all narcotics laws will be strictly enforced. Be responsible, and make smart choices.
Security & Entry
By purchasing a ticket, you agree to submit to a thorough search, including emptying your pockets and bags, having all of your items examined, a full pat-down, and possibly removing your shoes. We reserve the right to refuse entry to anyone.
Ages & ID
You must be 18+ to enter VIP areas and/or purchase alcohol. Valid photo ID is required.
ACCEPTABLE FORMS OF ID
Any government-issued driver's license or ID card containing a photograph and date of birth
Chinese or foreign government-issued passport containing a photograph and date of birth
Foreign government-issued driver's license/ID with color photocopy of passport
Temporary government documents proving you are currently renewing a license—ONLY if accompanied by passport or expired license
UNACCEPTABLE ID
NO School ID
NO Consular ID
NO Birth certificate
NO Expired ID of any kind
NO Photocopy of any ID (except as noted)
NO Temporary driver's license without passport or expired license
Festival Policies
Re-entry/ins & outs are not permitted. Your wristband may be scanned in only once per day.

Smoke only in designated areas.
Overnight camping in the vicinity of the venue is strictly prohibited.
Your physical well-being is your responsibility. Please bring clothing suited for all weather, including comfortable footwear (platform shoes or heels may cause falls), and pay attention to any symptoms of illness, heat and sun exposure.
We advise you to take public transportation.
Dispose of trash according to its recycling category, and do not litter the streets.
Please respect the communities and neighborhood around the festival, and refrain from actions disrespecting the neighbors, including but not limited to: causing unnecessary noise, destroying public/private property/wildlife, parking illegally (which may hamper the mobility of emergency vehicles), or littering.
Admission may be restricted at each stage due to capacity.

Unauthorized/unlicensed vendors, 

solicitations, handbills, sampling, giveaways, etc. are not permitted on the festival grounds.

Official merchandise sold at the festival may not be exchanged or returned after purchase, except defective items.
The event organizers, performers or venues will not be held responsible for any accidents, mishaps, injuries or thefts occurring inside or outside of the venues. We must ask you to take responsibility for your own actions.
Dangerous acts—such as moshing, crowd-surfing, stage-diving, or sitting on designated dancefloor areas—are prohibited. The event organizers will not be held responsible for injuries suffered by way of negligence of personal safety. The event organizers will see to first aid and arrange emergency services in case of injuries caused by prohibited dangerous acts, such as diving or moshing, but will thereafter not be held responsible. Furthermore, if such accidents involve a third party, it is the responsibility of all parties concerned to find ensuing action toward legal revisions. The event organizers will under no circumstances intervene or become involved in troubleshooting in such instances.
Anyone found entering the event unlawfully will be taken into police custody, for whatever the reason, and compensation for such actions will be charged.
Headliners are permitted to bring compact digital cameras and camera phones, only for the purpose of personal viewing. Professional-caliber cameras are prohibited. In the case a legal conflict arises relating to audio and/or visual recording using any form of recorders/devices, of any individuals including but not limited to performers, audience, and/or public and private facilities, the responsibility shall fall strictly onto the person who acted. The event organizers will under no circumstances become involved.
Prohibited Items
Professional photo, video, or audio recording equipment (no detachable lenses, tripods, big zooms or commercial-use rigs)
Laser pointers and air horns
Totems of any kind
Drones, remote-controlled aircraft, toys
Toy guns, water guns, slingshots
Balls or Frisbees
Tents, large umbrellas, chairs or blankets
Weapons of any kind (includes pocket knives, pepper spray, fireworks, etc.)
Illegal substances
Drugs or drug paraphernalia
Massagers
LED gloves or LED microlights used for light shows
Pacifiers, dust masks or gas masks
Eye drops (available inside festival at the general store)
Aerosol products/cans
Liquid makeup
Unsealed tampons (upon entry)
Open packs of cigarettes (upon entry)
E-liquid or E-juice of any kind (a selection of premium liquids from a variety of name-brand vendors will be available inside the venue)
Glass, cans, cups or coolers
Outside food or beverages (including alcohol and candy)
Markers, pens or spray paint
Large chains or spiked jewelry
Stickers, flyers
Bota bags
Large purses, bags or backpacks (over 12″×12″)
Stuffed animals or dolls
Pets
Any items prohibited by the event organizers may not be brought inside the venue and will be confiscated at the entrance. Carrying any articles/items considered dangerous and/or illegal into the venues is strictly forbidden, and in some cases, the event organizers shall have the right to ask the person with the item to leave the event site without refund.